Top 40 Before 40 Rock Artists - #11 - The Strokes
The Strokes are one of the best American bands to ever walk the Earth, and their newest album, The New Abnormal, was our pick for the Best Rock Album of 2020 (oh, and shortly after we chose them for this award, they won a Grammy for the same category). They also won our award for "Best Comeback" as well. 
I think that Julian Casablancas and crew have created an incredibly distinct sound that not only gets you pumped up, but gets you bobbing your head and singing along without even noticing that you are doing it.
Their songs are usually tightly structured songs without too much complexity, but that doesn't mean that they can't make more complex music (which is obvious from The New Abnormal in songs like "Ode to the Mets" and "Eternal Summer" - which is probably my all time favorite song of theirs). I would think that it is just their goal to keep things a bit more accessible so that listeners don't get bored with long solos or excess instrumentation.
I personally think that those "jam session" type songs on albums for most bands get a bit over the top, and if they just cut down to a more succinct version for the recording, it would make for a better album song. Then, during live shows, the bands can riff off as much as they want because that's why you pay to see live shows.
Now, if you are looking for straightforward, awesome rock music that never lets you down, then look no further than The Strokes.
For those of you who are just joining this list at this point, let me give a quick summary below:
In my almost 40 years on this planet, I have had the great pleasure of listening to a lot of music that doesn't make it to the airwaves, and a lot of these bands are some of my absolute favorites.

You WILL see some Rock 'n' Roll Hall of Fame bands on the list too, but for the most part, you are likely going to disagree with this list almost entirely.

I am sharing this ranking so that you get some insight into some great bands you may have never heard before AND for a little bit of a personal challenge to myself to rank these bands.
With that said, let's get to #11 on my Top 40 List Before 40:
By Roger Woolman - The Strokes by Roger Woolman 
I remember really getting into The Strokes when they released their debut album Is This It which was a massive success for them with the songs "Last Nite,""Someday," and "Hard to Explain" making rounds on radio stations and MTV (back when that was still relevant) alike.
The album has been considered one of the best albums of the 2000's by various publications, and when I first heard it, I was a bit bored by it. I didn't quite understand the hype. I think I was just initially unimpressed with the vocals of Casablancas as he sort of talks and mumbles in a few songs, but he does have range when he wants. 
So, I kept listening to it off and on, and it took about a month, but damn, those songs and that album are just fantastic.
I was a bit bummed in 2019 when I hadn't heard a new album in a while (as Casablancas has had solo albums and started a side project called The Voidz - both very good). Then I caught wind that they were releasing a new album, and I got excited again.
When they released The New Abnormal I messaged a few friends with this message, "The new Strokes album may not be their best album, but it sure beats the hell out of everything else on the radio right now."
After a few more weeks of listening to it, I actually would say that it might very well be their best album, and even though my wife was pregnant with our son during 2020, I told her on New Year's Eve as I played the album that the best thing about 2020 was The New Abnormal. (I was joking to some extent, but not at all in some regards.)
My personal favorite thing about The Strokes is that I identified very early on that if you play their music and put a looping video of the characters from the Peanuts cartoons dancing, it looks as if they are actually dancing to the song (any song by The Strokes) and makes every song so much more enjoyable when you think about this as you listen to it.
Here's an example of what I mean:
Play "Last Nite" while watching this gif: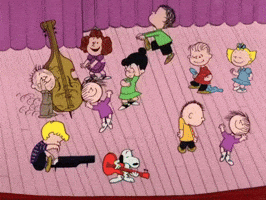 Also noteworthy...Linus (the kid with the blanket) is just crushing his dance.
Basically, if you haven't really gotten into The Strokes yet, I would say it is your obligation as a fan of rock and roll to do so. Not to be pushy or anything, but it's just a band that I think should be in every rock fans listening rotation.
So, go check out Is This It and The New Abnormal for sure, but don't forget the rest of their catalog which is equally awesome.
Similar Artists That I Recommend That Didn't Make The Top 40:
The Hives, At The Drive In, Oasis
<-- Check out #12 on this list or Check out #10 on this list → (Available June 8, 2021)